WUPPERTAL: City, North Rhine-Westphalia Land (state), northwestern Germany. The city extends for 10 miles (16 km) along the steep banks of the Wupper River, a right-bank tributary of the Rhine, northeast of Düsseldorf.
Formed as Barmen-Elberfeld in 1929 through the amalgamation of the towns of Barmen, Elberfeld, Beyenburg, Cronenberg, Ronsdorf, and Vohwinkel, the name was changed to Wuppertal ("Wupper Valley") in 1930.
 Barmen and Elberfeld, mentioned in the 11th and 12th centuries, jointly received the monopoly for yarn bleaching for the Bergisches Land in 1527.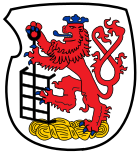 The introduction of ribbon making and linen weaving in the 16th century, lace making (1750), silk weaving (1775), and red dyeing (1785) gave added impetus to these towns' textile industries.
The 19th century`s industrialization added dye stuff and pharmaceutical industries. The most famous product originating from the Wupper valley is ASPIRIN, which still reliefs pain all over the world - more than 100 years since it was invented by an Elberfeld chemist named Felix Hoffmann.
The system of civic poor relief introduced in Elberfeld in 1853 was long regarded as a model throughout the world. A unique monorail suspension railway was built along the Wupper River at the turn of the 20th century in order to serve Barmen, Eberfeld, and the other towns.
Wuppertal was severely damaged in World War II but was subsequently rebuilt in parallel terraces on the river valley's slopes, with numerous parks and public gardens and a well-known zoo. Wuppertal is the centre of textile manufacturing in the region. The city also manufactures chemicals, rubber, machinery, vehicles, tools and printing equipment, printing works, and publishing houses. Pop. (1989 est.) 371,283.
Views of Wuppertal
---


Wuppertal in der Welt

Wuppertal beschränkt sich nicht nur auf das Tal der Wupper in Deutschland, es finden sich auch in vielen Teilen der Welt Spuren von "Wuppertalern" - von Norwegen (Barmen) über Indiana (Elberfeld) und Lousiana (Barmen) bis nach Namibia (Gross Barmen) und Südafrika (Wupperthal).
Über einige "Wuppertaler" (z. B. Hermann Enters) gib es auch weiterführende Informationen.